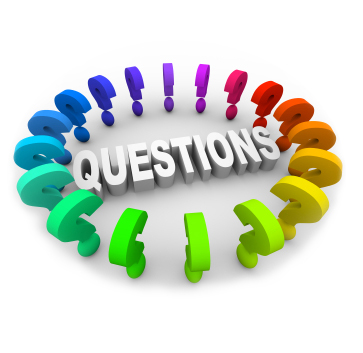 FREQUENTLY ASKED QUESTIONS AND ANSWERS
I love questions! They are much easier than answers. However, I do have the answers too! Here are some of my most (frequently) asked questions but please do not hesitate to ask for more information if you do not see your question here.
SEARCH ENGINE OPTIMIZATION (SEO)
SEO is a process of several different factors combined together to get your website noticed and "ranked higher" by the three main search engines (Google, Yahoo and Bing). There is not a way to guarantee your ranking, but there are ways to help it along:
Have your website designed by a experienced website designer/ developer that stays updated on the latest technology and trends.
Have your web content written or edited by a professional. If correctly written, your content can help your site come up when a potential customer searches for your product.
Use a list of "keyword" and "description" meta tags. A good resource for keywords is Google Ad Words. (These meta tags are inserted into your html code by your designer/deveoper).

LINKS! LINKS! LINKS!

Link to other pages and information within your own website.
Links to other venues where you advertise or published articles.
Links to your suppliers or where your products can be purchased.

A well written blog will boost traffic and promote visitors to come back often. Adding a RSS feed from your blog to your home page is a good idea too. When the information on a page changes, the search engines have to index again.
Combining your website's professional design, informative content, key word/description meta tags and productive links will all help your site get the recognition that it deserves.
Remember to throw in some patience too!
Q: How much does a website cost?
A: The cost for a basic 5 page website is $799.00. This is a full package to get you started. If you need more bells and whistles, I can do that too! See the "Services Page" for a complete list and prices.
Q: How do I get started?
A: Download the "Getting Started Questionaire" and begin working on the information that you would like to present on your site.
Q: How long does it take to design a website?
A: The basic website can ususally be completed in just a few weeks. The most common reason for a slow down is the writing of the content. Please compile any sales materials that you have (newsletters, brochures or other advertisments) and bring to our initial meeting. This will give me insight into the products or services that your company provides.
Q: Can you design my website even though I don't live in Florida?
A: In most cases a meeting isn't absolutely necessary. Information can be shared through emails and phone calls. However, I do like to meet my clients in person to develop a strong working relationship.
Q: I am not sure where to begin on the content for my website
A: Getting started is ususally the hardest. Please read Home page content tips on the "Services Page" Help is always available with our Content Develpment writer.
Q: What is the best way to send the content for my website?
A: An unformatted Word document is best for the text and a .jpg for the images.
Q: Can I update my website myself?
A: If your changes are minor, it is most cost effective to have me make the changes for you. Of course, your website package includes six months of maintenance and minor text changes.
Q: What is a Content Management System (CMS)?
A: This is a page that is created with editable regions so that you can update areas of your site without knowing how to write html code. This also keeps your website code safe from accidents.
Q: Why can't I see my new website immediately when I do a search
on the internet?
A: Once your site has been successfully uploaded and submitted to the search engines, it takes weeks and sometimes months for the search engine to index your site and list you in their directories.
Q: How do I pay for my website?
A: A 50% deposit will get the design wheels rolling and the remainder will be due when your site meets your approval and is sucessfully uploaded to your hosting service.
Designs by Diana Turk, LLC - All Rights Reserved 2016