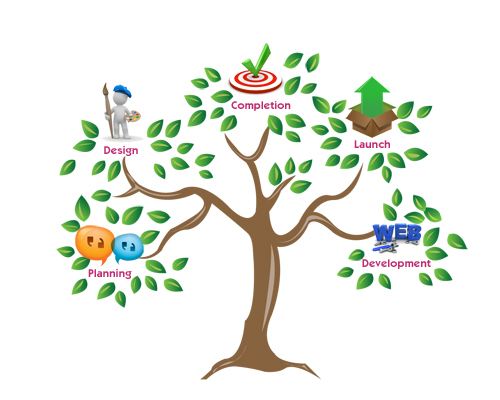 THE 5 STAGE PROCESS TO
A SUCCESSFUL WEBSITE
The idea of designing a new website can be a
daunting and time consuming task for most people.
That is when my services as an Experienced Web Designer and Developer can be helpful to you.
Planning Stage:
The planning stage is the most important part of the process. This is the time to download the
"Getting Started Questionnaire:
A meeting will be set up to review your questionaire then determine your website needs, goals
and budget.
Your preferences of color, font and layout will be used for the design stage.
This is a good time to consider interactive services (visit the "Services Page" for more detail)

A slide show for information or images.
Drop-down or animated navigation menu.
A Wordpress Blog with RSS feed.
E-Commerce shopping cart for your merchandise or services.
Video (Stand alone or streaming from YouTube).
Search site button
Paypay payment services integration
Design Stage:
Using the information gathered from your questionnaire and our initial meeting will give me key points to focus on for your three website prototype (comp) designs.
Your completed "Comps" will be uploaded to a secure server for your review. This will give you a chance to choose the portions of each comp that you like or dislike for your final design.
Several logo ideas will be presented at this time as well
Now the final prototype can be created and the development begins.
You can see the progress of your new site being built by visiting the link provided for your comps.
Development Stage:
In the Development Stage the coding of HTML and CSS begins and your site is becoming active.
Your web content and page preferences will need to be complete by this time. (The writing of web content can delay the the following stage. If you need help or advice, we have a Content Developer to help (See Content Development Tips).
Images and content will be programmed and placed throughout the site into the appropriate areas.
During the Development Stage, all code is written for Search Engine Optimization (SEO). This includes Meta Tag Keywords and Descriptions.
All scripts and code are tested for browser compatibility then the website is ready for your final review.
Launch!
Domain name registration, hosting service and email accounts will be setup for you.
Once you approve the final design, your website will be uploaded to your hosting service of choice.
Your site is now "Active" and viewable to the public.
Completion:
Your completed website is uploaded and submitted to search engines.
Site Index submitted to Google and Google Analytics setup.
Six months of minimal changes included.